KEMEN OR SEMEN: The Blurred Line Between MOLESTATION And CONSENT
Hey guys. Missed yall. Its been a while.
I received an interesting article following the recent Kemen case in the just concluded 2017 Big Brother Nigeria (BBNaija) show. I was not really interested in the KemenVsTboss issue until I read through the article and some other social media posts.
Well, I've not actually said anything about the issue but I'll like to share this with you and hear your opinion about it.
Its an article titled - KEMEN OR SEMEN: The Blurred Line Between MOLESTATION And CONSENT
By a Ceaf staff.
Hope you enjoy it.
#KemenOrSEMEN
#BBNaija
#Kemen
#TBoss
#Bossnation
#Seegobe
#KemenVsTboss
MOLESTATION: Sexual abuse, also referred to as molestation, is usually an undesired sexual behavior by one person upon another. When force is immediate, of short duration, or infrequent, it is called sexual assault. The offender is referred to as a sexual abuser or (often pejoratively) molester.
CONSENT: This is seen as permission for something to happen or agreement to do something.
In this case, with the above definitions, one can say that molestation occured between Kemen and TBOSS (also known as TOKUNBO IDOWU).
Honestly, I was shocked that some misogynistic men also know as CELEBRITIES are coming to KEMEN'S rescue.
The big brother show in general opinion is a show that lacks morals and
promotes nothing but Sex! Sex! Sex! but an incident that occurred in the
big brother house and the way the producers handled it, is perhaps the
only sex Education Nigerians would ever get on the meaning of "CONSENT"
Kemen's choice, in our opinion at #CEAF, to sexually touch a woman without her "CONSENT". The defense as presented by Ayo Makun (also called AY), that it is what a 'correct guy' would do when a fine babe is beside him' is totally unacceptable. KEMEN, OR SEMEN as I like to call him, is a disgrace to all men worldwide and unless he can return in time and undo his act, we shall forever remember him as a total waste of man sperm!
According to the US Department of State, Country Studies on Human Rights
Practices; Domestic violence has grown prevalent, and is usually regarded as socially permitted. In Nigeria alone, approximately three in ten Nigerian ladies have experienced actual physical violence since age fifte
en! Not to mention the rampant increase of domestic violence in the last 3 years from 21% in 2011 to 30% in 2013. Which is no wonder we hear of popular people, such as Ronke shonde, Titilayo Arowolo in our local news been killed by domestic violence.
But most of this cases are of private citizens which only comes to limelight after it is too late. But what happens when such an abuse is done in the public eye by individuals or people who ought to serve us? or the victims are public figure's themselves? What happens?
Domestic violence is not a respecter of persons, anyone can fall victim. And here are few instances:
1. Dino Melaye: Domestic Abuse, Politics, Bully.
When you hear the name Dino Melaye, what is the first thing that comes to your mind? Trouble? Wife beater? Egomania? Bully?
There is no doubt that Dino's Melaye over the past few years has been in
the news more for the wrong reasons, for what has occurred in his personal life, or derogatory and illiterate statements he has made, than any real significant change he has brought ever since he joined politics. The only time I heard any significant or positive effect concerning his name was when I was in 200 level Law and we were asked to discuss whether his refusal to obey a court order or not was constitutional, since then NOTHING. All he has managed to do however is cause his two wives to leave him, because he rather display his punching prowess on two women than in the gym.
His first wife , Tokunbo accused him of hitting her, and that whenever
they had a confrontation, she would find herself in the hospital receiving
treatment for all types of injuries. On September 25, 2013, it was reported that Tokunbo and Dino had an argument , and he held a silver pistol against her head and would have pulled the trigger if he wasn't distracted when his phone rang. As evidence of his battery, various pictures of her bleeding surfaced online.
I guess further evidence of his 'manliness' was when his second wife,
Alero Falope left her marriage just after seven months of marriage. Of
course, she denied the reason she left was because of domestic violence,but then we know the stigma that comes with talking about it… Just saying!
I guess the most popular news involving Dino Melaye that got the nation talking, was when he threatened to rape and beat up Senator OluRemi Tinubu former first lady of Lagos State; particularly since his remark to her after she called him a dog and a thug, was targeted at her as a woman. If he simply called her a dog as well, that wouldn't have mattered much, because she insulted him first. But to threaten to 'impregnate her' and say nothing would happen, and think he has made a worthy rebuttal,
shows how low he regards women.
I also remember him as someone
who objectify women by comparing former Aviation Minister to the latter that he prefers her because of her BREAST AND SHAPE!
PROFESSOR DINO, HOW LOW CAN YOU GO?
In my opinion, he only see women as sexual object. If we cannot trust our so called leader
to live the law he helps make, who then can we trust?
2. TIWA AND TEEBILLZ.
Another celebrity is Tiwa Savage. Okay so this may not have been actual
physical abuse; meaning Tiwa Savage husband did not actually beat or hit her, but an abuse did occur.
Emotional and verbal abuse, which in our opinion at #CEAF is as bad. It does a lot of damage to a woman's psychological and mental health being. We at #CEAF do not stand for any kind of abuse, whether it is physical or not, or done by a Woman or not.
Kudos to Tiwa Savage for speaking out!
NB: An advice to TEE BILLZ: what happen between you
and TIWA may also happen in the future if you don't get a JOB, because from all indication the main reason you had a fall out with your wife was all ABOUT MONEY and Miss-management.
3. TONTO DIKEH AND MR CHURCHILL.
Then Tonto Dike. Apart from being the same 'incompetent interviewer' (as
some people have said) who conducted their interviews, another thing Tiwa savage and Tonto Dike have in common is an abusive ex-husband according to Report.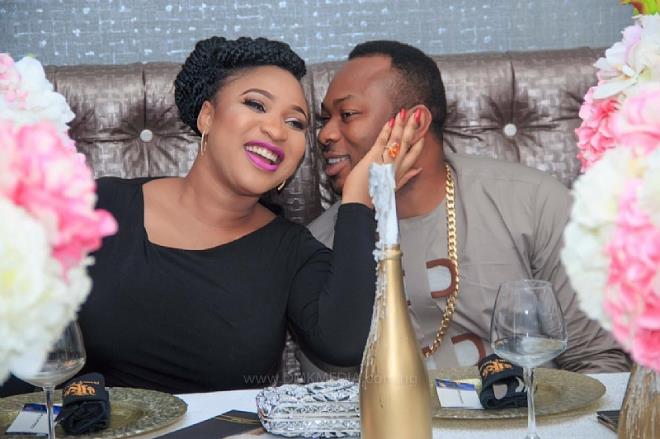 Tonto recently disclosed that her marriage of less than three years had crashed, and among many other allegations, domestic abuse was said to have occurred. She revealed to the media pictures of herself bruised. This is to show you that nothing is perfect, even the most seemly perfect woman can be going through abuse. Kudos to Tonto for standing strong.
So whether it's Dino Melaye (the wife beater ) or Teebillz (the emotional
abuser) or KEMEN (the MOLESTER), abuse is abuse, and no one, whether celebrity or not should stand for it.
Big shout out to Celebrities and individuals who stood up against
Molestation of TOKUNBO IDOWU and if you think that what Kemen did was r
ight, it's shows you are part of the Problem affecting our society.
Lets stand up with #CEAF and say NO TO SEXUAL ASSAULTS AND DOMESTIC VIOLENCE.
Remember to follow us on all our social media handles
Instagram:@ceafng
Twitter:@ceafng
Facebook:@ceafng
#ceafng #ceaf_ng #
comfortempowerment #
saynotosexualassaults #
ENOUGHISENOUGH
Read more about CEAFNG here:
COMFORT EMPOWERMENT AND ADVOCACY FOUNDATION (CEAF) Is Saying NO!