How To Prepare Homemade Bread
We all know that nothing tastes as good as a home cooked food. In homemade recipes, you know exactly what goes into your meal and the needed quantity of each ingredient to make it a delight! Unlike meals prepared for profit making which can be made with lots of substandard alternative and less nutritious. We will agree that homemade foods are naturally healthy, nutritious, delicious and not to mention satisfying.
So, you want to bake bread right? It's very easy and you don't have to run a bakery or work in one before you can do that; you can bake your own homemade bread at the comfort of your home, no, your kitchen. lol.
Even if you don't have a bread pan or oven at home, you can still use the regular cake/baking pan and use a pot for your oven. Check HERE for how to use your pot as an oven.
Here are the Ingredients you will need:
2½ cups of all-purpose flour

3 tablespoonful sugar

1 tablespoonful active dry yeast

3 tablespoon vegetable/olive oil or 2 tablespoonful margarine

½ teaspoon salt

1 egg (optional)

1 cup of lukewarm water
Measure out 1 cup of lukewarm water, add the yeast and sugar. Stir and leave to froth for few minutes.

Measure the flour into a mixing bowl, add oil/margarine and gently rub in the fat. Add salt and egg (optional) and mix.

Make a well in the middle of the flour mixture and add the rising yeast mixture little at a time until completely mixed.

Transfer to a clean surface dusted with flour and knead for about 8 minutes. Cover the dough in a clean bowl using a neat kitchen towel and leave to rise for about 20 minutes.

Turn the dough onto a clean flat surface again and knead for another 8 minutes. Transfer into the bowl and cover again for about 1hour 30 minutes and then, knead again for 2 minutes.

Cut into greased baking pans and leave to rise for an hour.

Bake at 180°C for 30-45 minutes till the top is golden brown.

Cool and slice. Serve as desired.
So, what do you think of your freshly baked homemade bread? I bet yummy!
Remember you can experiment with other alternative ingredients you choose! There is no right or wrong ingredient in homemade cooking! Plus, you get to style your bread the way you want it to look.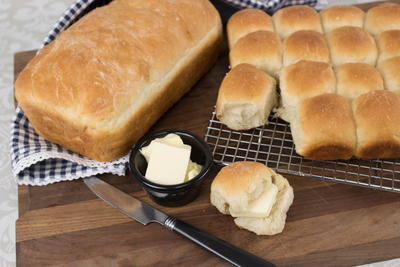 Don't forget to share your experience when you try it.
And you can always do some for a little extra income.